Position actuelle: Page d 'accueil
How I make USD 15,000 monthly incomes through open source projects
How I make USD 15,000 monthly incomes through open source projects
2019-09-18 17:04:00
Mirai

Original

2301
Intro
If you are a front developer, you should know fullPage.js. It is a well known open source JavaScript component which can create full screen pages fast and simple. Alvaro Trigo, the author of fullPage,js, posted a blog on Indie Hacker, mentioning making a $15K income per month out of fullPage,js. What?! $150,00? A month? You must be as curious as I am that how an open source software author makes that much monthly. After reading his blog, I feel obliged to summarize the key points in this article, so open source community can be encouraged and learn from his experience.
Who coded fullPage.js
Alvaro Trigo. He is a Spanish working in UK. He was a full-stack developer working for a small team and quit his job when the incomes fullPage.js bring to him surpass his salary. He also mentioned,
"Making something is nice and all but it's an entirely new level when you see people actually using what you've created."
This is also ubiquitously true in the open source community that seeing people use your project and you are helping them are much rewarding and encouraging.
Alvaro Trigo currently ranks fifth on the list of top Javascript developers in the UK and 84th worldwide according to git-awards.com, and his fullPage.js is trusted and utilized by Google, SONY, ebay, etc. On GitHub, fullPage. js is starred over 28,000 times.
How fullPage.js is operated
After fullPage.js is release, Alvaro was not just waiting for it to grow. Instead, he started marketing immediately and did the following
create a demo page
post blogs and explain the technology of this project
send emails to major Web community to promote

this project

submit the project to Web resource sites
answer questions on Stack Overflow and promote

this project

use GitHub Trending

upload tutorial videos on YouTube

do interviews with tech media

buy Google and Facebook ads (not working well)
How fullPage.js is operated for profit
Alvaro Trigo was first trying to make money out of fullPage.js by doing customizations, but it is a waste of time to confirm the requirements of the customization as there were more and more customization requests. Then he packed some of the customization and tried to sell it on his website.
With the features of this project optimized, the author started to sell licenses of fullPage.js. Below are the main resources he uses to make profit.
extension sales (on Gumroad)

license sales

commissions from WordPress Affiliate (40% from WP)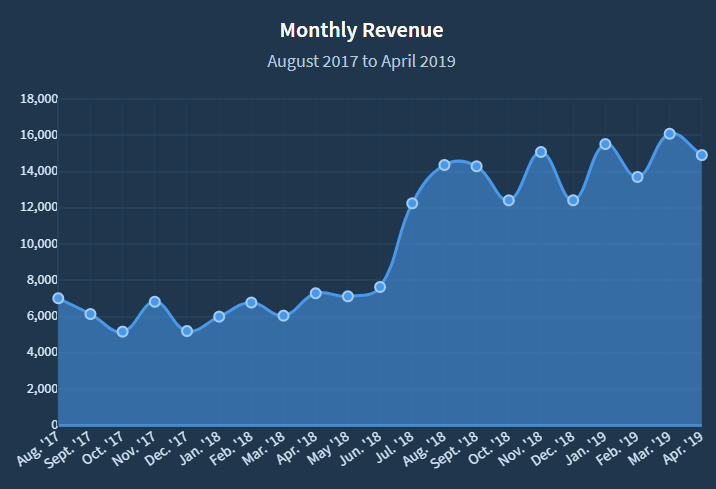 The revenue has doubled since July 2018 when he switched fullPage.js from open source mode to premium mode (GPLv3 is still free). But still, he regretted not creating a WordPress plug-in from the beginning, as the market on WordPress is huge. Therefore, Alvaro Trigo also suggested
" Start charging from the very beginning; though this does depend on the product... Earn your place in the market, make yourself a name, and get others to help spread the word about your product. Once you have a good amount of people using your product start charging in some way or another."
Suggestions
No matter the technology, the project itself, or its marketing, fullPage.js has been done in the right way and excellent way. It is also what an independent developer should learn. To be one of them, you should,
do something you enjoy
design your project and release it to the market to test it asap ( as in The Lean Startup)
do not waste too much time on the technology you use and release your product as planned
you can produce a nice project even you don't know much about the technology
brand your project if you go independent
support your users via emails, at least at the beginning of it
listen to your users
think over and over your product and set reasonable goals; product first and then others
Conclusion
More and more coders would like to be independent, and they all want to be someone who can code a product that helps people and brings passive incomes, like the author of fullPage.js.
Just like the author of Vue.js said, 'Passive income is what makes you free. Programmers in this era have a natural advantage in creating passive income.(translated)
However, being an independent developer is still relatively challenging. When you can't find a team or partner in the early phase of your product, you have to be multi-tasking, such as the technology, design, product, marketing, etc. None of those can't be ignored. So you have to think whether your learning ability and self-control are strong enough.

If you are not satisfied with your current work situation, it is time t to start planning today and prepare for becoming an independent developer in the future. When the opportunity comes, you will be sure to grab it.