About ZenTao Enterprise

Installation

Update and Upgrade

Office Automation

Workflow

ZenTao Desktop
Build-in Workflow
2019-09-03 13:09:50
John Ten
1762
Final Edition:tengfei De 2020-04-29 16:32:03
ZenTao Enterprise 3.5.alpha has added the Flow feature. You can customize it so to make ZenTao fit your workflow.
Fields, actions, layout and data as built in ZenTao can be customized and used to extend rewrite ZenTao built-in workflows.
1. Build-in Workflows
Flow is developed based on workflows, features, and customization in ZenTao, and has built in 12 workflows, namely Product, Plan, Release, Story, Project, Build, Task, Bug, Case, Request, Suite, and Feedback.
Builtin flow in ZenTao does not support Label, Sub Flow, or Child Table, and it cannot be deleted.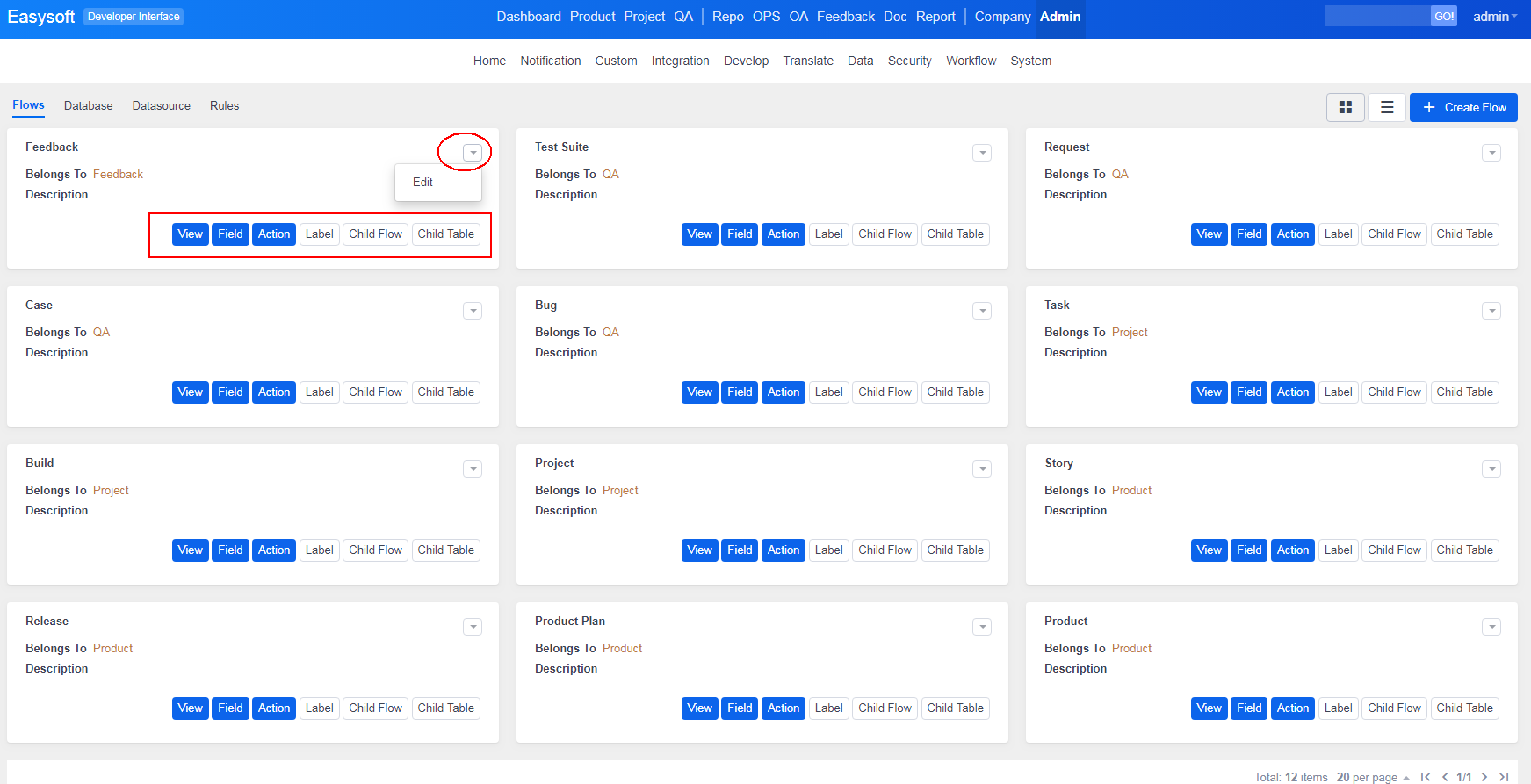 Flows are displayed as cards by default. Click the icon at the upper right to switch it to List. You can View, Edit, and manage the Field and the Action.

You can check flows by clicking a tag in the menu, such as All, Product, Project, QA, and Feedback.

2. Database
Database is to list the data corresponding to the flows in ZenTao. You can only edit and manage fields for build-in database.

3. Data Source
Datasource is source information about the database that a flow is corresponded to. It is used in Field, which is to generate the data in drop-downs. It can also call system functions, custom SQL statements, option lists, and system languages.

4. Rules
Rules are used to verify fields, forms, etc. via regular expressions.